OMG!

ok wtf. its 8am on january 1st, 2008 and (like in an old
Conflict
fanzine) i'm going to try to recall every single new years eve since 1988. oh man,
20 years of new years eves
. theyre always such anti climactic social events. and i always wake up the next morning in a new year, thinking i have to start getting something thats not going, more going, or get jamming on the words for real...
i hope i can even remember every year.
1987>1988 somewhere in jersey
MUGFACE
was playing in some girl's garage at a party in western jersey, just over the delaware river from easton or nazo somewhere. it was a pretty lame party. i wasnt so into singing anymore. there was a lot of snow. the girl's house was out in the middle of the snowy woods and her parents were nowhere in sight. i was in a weird mood but i always was then.
MUGFACE
was pretty much over with by that point. or i was over it. that band only lasted from june 87 to early winter 88 if i recall correctly. this was probably the last time we actually played in front of peeple.
monto and bobby and alex ilchuck and a bunch of other LV dudes were there. and kira and icky and some other lancaster skins.
alex and kira and maybe dave folk started blowing up sticks of dynamite out in the woods and laughing like crazy. huge booming concussions rolling out into the still night air. that was the best part of the whole evening. the girl who lived there was pissed. but those kids did not care. after we played i stood outside in the snow under some trees and smoked a bunch of wzzd with a new jersey girl in a burgundy bomber jacket. she had a bleach blonde chelsea cut. i had an inca hat. my ankles were freezing because i stopped wearing socks. i was thinking i had to start splitting the scene. those guys were blowing shit up and laughing like crazy. the girl whose house it was was freaking out because she thought the cops would come. i can't remember how i got home to bethlehem, or if i even did go home, but i was wigging out.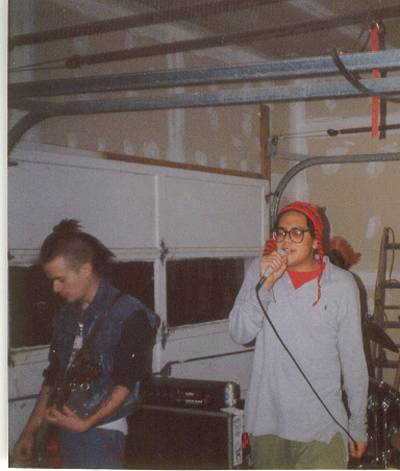 1988>1989 in bethlehem
just back from London for the holidays where paul david and i missed getting blown out of the sky on
pan am 103
by a mere 2 days. i mean our flight was pan am 103 but we'd changed it 2 days later, thank god, in order to get a lot of hazh from some irish dudes. but man, what a wasted, funny, crazy awesome failure of a school year that was.... hung out in my room at my parents house with T.
back in notting hill a week prior

, i'd hollowed-out a cheap leather belt and filled it with the portobello road irish hazh to smuggle onto the plane. there was so much that it snaked all the way around my waist; but it being just 2 days after lockerbie, airport security wasnt so hard assed in checking american college students returning home for christmas (they actually regarded us with pity & solemnity as flight 103 was filled with college kids whom they presumed we knew). (we did know a couple of them.) T. and i were lighting that shit and blowing long trails of smoke out my bedroom window as the clock struck midnight. my parents were having their filipino new years snacks in the dining room below us. we were jamming the just released first
THEE HYPNOTICS
single i'd gotten 2 weeks previous at the west london rough trade. i couldnt stop listening to it because it was so awesome.
after T. left i felt sad and stupid and stood on the roof of the house at 3 in the morning and looked up at the moon and smoked the very last of the Silk Cut cigarettes from london, thinking 'wow, i should be dead in a field in scotland'.
1989>1990 in philly
living on 19th and girard with andy clees. we walked to a party at the swinging bachelor pad (yeah right) of lars, chris & noel on 21st and cherry. everyone was stoked to ring in the 90s. all those west chester peeple were having a blast. they drank so much and reveled in early 20s debauchery and wantonness. lars lit his own coffee table on fire and burned a giant hole in the living room carpet. me and andy and elysia and art hung out together and scowled like jerks as we were wont to do back then. there was a street fight outside. we watched it with glee after heading onto the balcony to listen to all the celebratory gunfire going off in the sky over north philly, filling the crisp air with showers of glistening lead like philly style new years snowflakes.
i slept for one whole day to start the new year.
then, drowzy and cold and full of a Dew Inn breakfast on 5th and Girard, me, simon, andy, art & elysia took off to DC to see the
DUSTDEVILS
and
UNREST
at DC Space. and the
DUSTDEVILS
that night were one of the coolest bands i had ever seen. and the tape of this show became Teenbeat recs #41 Easy #6 1/2. read about it here
1990>1991
i can not remember what exactly went down. but it involved spraypainting antiwar punker slogans on the basement walls of the house in which i was living (5012 cedar ave) since the gulf war part I was about to begin.
"make home brew not war!" "fall down not out!"
if i had only known then what a tremendous year was in store, i would have surely not cared about any wars ever!
1991>1992
fully ensconced in the
Pine Street
Revolution
Grrrl Style Now
scene thanks to Beth, she & i went to a party at Tania and Sharon's pad on 9th & Pine at which various northeast philly HC scenesters were getting loaded and asking me what i thought about their post
LEGITIMATE REASON
and
PAGAN BABIES
bands (like
Groovy Monster
, natch). that northeast dude Meatball was there, extremely wasted. Flyers jerseys. and baseball caps and bomber jackets. it all seemed so incongruent and excellent up inside a posh pad on 9th and Pine.
1992>1993
(journal entry 1/1/93)
"it comes screaming in on new years eve. i put up the balloons with anne & noel & bob all day, too hung over from the night before in the same company (sitting in a circle in lars' kitchen drinking by candle light). drunk on a mixture of everything on offer at (my sister's) house on Corinthian, we split for lars's pad. the new year comes in with me hugging beth, mistakenly gulping champagne that re-emerges in my nose as chris k. is shoving his tongue into simon's ear for fun; and people of my fucked generation hug and kiss, celebrating another milestone toward destiny fate & destruction...."
1993>1994
andy, elysia, beth & i went to a party at linda and noel's house on 5th & washington. we are almost late because me and andy were listening to the

HELL NO

record on 22nd and walnut for far too long ("its like their influenced only by

FUGAZI

and

NEGATIVE APPROACH

and no one else!" i screamed amazed) (that would not be a big deal nowadays. actually, once through the preceding 15 years, it would be fucking gross). lots of drinking. lots of trips up washington to some corner bar for gimlets, which are fucking gross. lots of gunfire celebrations from the high rise projects up the block (theyre torn down now). lots of funny kids from the projects running around or hitting up the chinese take out next door. the scene is half sketchy and half joyous. and the
Mummers
are starting to blare way off on 2 street as the fireworks over penn's landing go off. but the smells coming up out of the gutters along washington ave were making me feel sick.
1994>1995
beth and i threw a little new year's party in our new pad on 21st and South (2 floors above the old Hot Club, yo). some select friends came by for drinks and mellowness. my messenger coworkers filled our hall with bikes and it was hard to get from one room to the other.Tammy had just passed away (from a stupid, accidental OD) and alex was still really messed up about it. we had cajoled him into coming, just to get his mind off stuff for a little while. he got so drunk and maudlin he almost fell backwards out the window while leaning back against it. i felt bad for him... in the middle of the night a tremendous fight broke out down in the street. that wasnt cool to see.
1995>1996
i remember being in the middle of the living room at lars' and anne's house on 15th and Locust, hugging beth just as the bell dropped. i remember a few hours later after most of the peeple had split, lars or somebody handing us 2 tabs. with surprisingly little trepidation (i mean me and that kind of psychedelic activity had not hung out together for a long long time by that point) we stuck them on eachothers' tongues....
6 hours later we're wandering around Broad street surrounded by Mummers and philly mummers parade fans. it is a spooky cold psychedelic new year's trip. everything is so colorful and real but so weird. its as if we're in a
Brueghel
painting, surrounded by the saltiest salt of the earth. walking up Locust toward home there are all these dudes in make up and we think theyre following us. we pass jimmy from
SUBURBAN UPRISE
and we recognize eachother from a different era.
1996>1997
beth worked on the rehab of the Trocadero after the previous shithead owners sold it so we went to the opening party. saw the psyclone rangers singer and he couldnt believe beth and i were about to move to tokyo; as if moving to different cities in different countries were some sort of human impossibility. the whole gala event was a philly scenester extravaganza. so we split early and ended up at art's wharehouse around the corner on 10th and cherry.
i wanted to leave philly as fast as possible.
1997>1998 in tokyo
(journal entry 1/2/98)
"hung out in kameda & kawasaki-shi with jackie and her rich stoner japanese friends. tetsuya and his wife own some company that he inherited. they met eachother on a beach in Bali on some 10 day surf, pot & acid trip. a match made in heaven cuz they are cool. tetsuya's homestay in the USA consisted of underage drinking and drugs in seattle. we hit the temple and wandered around through the crowds, filming mods and kogals and kimonos. we hit the kawasaki
penis shrine
and got taco-yaki and okonomiyaki. everything and everyone in the night looked awesome. we fell down on jackie's tatami after, to crash and dream new years dreams. but the first morning of 98 was so glorious, warm and bright. so we went back to tetsuya's and ate mochii & osechii and drank until night. we went to karaoke and screamed STONE ROSES songs and DAMNED songs until me and beth had to split to catch a bunch of empty last trains home. and now i'm exhausted in 1998. but thank god in a different country.
just got the news from art that andy p. was shot in the back on new years while he was walking Beef the dog... now i remember why we just had to split fuckin Philly. fuck it. even though it may be boring and clean here, you can still walk down your street at anytime of night. now i'm wigged out in 98..." and from then on our motto was "stop shooting our friends".
1998>1999
after recording a
xplanet and bethx
demo (the songs "i am the ghost of crispus attucks" and "More pt1"), we slipped around gyotoku and visited all the little old temples and shrines near home. we probably hooked up some kirin out of a machine on the street, and scarfed taco-yaki as we rode around our serene hood's little lanes on bikes late into the night. then we hung with friends and coworkers from the UK, australia and new zealand. oh man... we (xplanet and bethx) were all about being mellow.....
KARAOKE IS ASS
was the demo.
1999>2000
the Y2K bug hit us in the shins and all our electronics crashed just as we were pulling thousands of dollars out of japanese bank accounts and remitting loot to the USA. so back in PA we hung out in downtown bethlehem and and watched fireworks light up the the jagged steel works across the river with my little brother and his girl....
2000>2001
holy shit i can't remember! maybe beth & i were hanging out in afghanistan in a cave with some peeps or something.
2001>2002
we had a bunch of
kutztown
locals over for drinks and talk in our first virginville joint, on the sunny side of the legendary witchkraft hill. the legendary
fudge hampton
aka Mike Rimm, arrived with a lady friend. he goes, "i'm her chauffer. she can drive but she'd rather not drive." kara taught me how to see a person's aura that night. i'm serious. i can still do it if the environment is right. i remember it being amazingly cold outside. friends coming over from tokyo were in for one frigid motherfuckin surprise!
2002>2003
Stony Run power! we hit a party at jim and colleen's pad, which was inside an ancient general store, carved out and fixed up to be one of the coolest rural pads ever lived in by anybody. in Stony Run Pennsylvania. at exactly midnight, jim dropped the needle into the groove of the LP on his turntable and 'new years day' by U2 exploded forth in a shimmering cascade of sparkles and whiskey and ring bologna. i was like whoah.
2003>2004
jim and colleen's again except this time we live above them. and there had been an ice storm so the little village of Stony Run was covered in thick plates of frozen water. after midnight we all took a long walk through fields and up to the old dutchy cemetery. the first day of 04 found me and beth and wayne and jen and paul and robyn feeling pretty uh, slow... on the floor of our pad watching Another State Of Mind. ha ha...
2004>2005
we ate sushi with my sister and her little boys in Bethlehem cuz they were moving to Melbourne, Australia the next day. then we booked to a party at pinky and kristy's place where lots of peeple were having a great time. the jazz dudes that lived upstairs jammed some sweet jams. i sat there amazed by how awesome they were. and to see them on that enclosed porch in the cool little village of Trexler... i mean its like a perfest movie set over there. a movie that would be a little like the Waltons, but located in the Alps.
2005>2006
another year, another party at kristy's, but by this point, pinky had split & hannah was living there.
TQI
jammed the cool, odd pop-sike numbers. the feeling was sweet but rushed. we took off before midnight to hit the party at pinky and chris's house out beside the Rodale
experimental farm
. there was ice on the roads as we drove home late in the night.
2006>2007
beth and i just chilled out and stayed at home together. did we? i'm not even sure. but we didnt go to Lala's party.....
i can't believe i'm not sure of what we did just one year ago. wtf memory?
2007>2008
oh it was cold last night.... kristy and dave built a cool house in Stony Run and it was like the first party.

TQI

jammed out their off-kilter songs when we arrived. dave's guitar is so west coast psychedelic he should be playing on the
RAIN PARADE
'

s first (and only great) LP. kim was in there stoking the fireplace. there was a lot of different stuff to drink. tons of antwerp flinders and even boylo from the coal region.
i gave buster the cat a head rub and looked at his aura. he realized at once that i'm a cat whisperer and mellowed out on my knees. once the bell tolled a new year we all walked up the hill to look at Little Round Top and the Pinnacle. its my favorite road almost anywhere. the mountain looked like mt fuji with mist settling all around it. those hills and the others around them form a perfect pentangle of
sacred geograph
y
with real power that you can feel when yr up on top of them.
andrew was totally joking around and making me crack up. locals were blowing up sweet fireworks all around Stony Run. they lit the sky like flares. walking back crunching the snow on the ground, i got this feeling that 2008 would be an alright year.
the end.